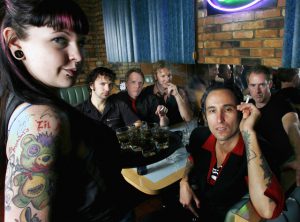 SPONGE – We are ecstatic, or should we say Wax Ecstatic to announce Sponge will be headlining at Tommystock this year.  Sponge has proven to be one of the Motor City's heaviest hitters after gaining international notoriety with their debut album "Rotting Piñata" (Sony). Emerging from Detroit with hits like "Plowed" and "Molly (16 Candles)" Sponge received massive airplay on radio stations from coast to coast and were in heavy rotation on MTV. Both "Plowed" and "Molly" hit #5 on Billboard's Modern Rock Charts, catapulting "Rotting Piñata" to Gold, and ultimately Platinum status.
 Sponge's follow up CD, the critically lauded "Wax Ecstatic" (Columbia) scored additional top ten Billboard hits including "Wax Ecstatic" and "Have You Seen Mary?"  The band's music was also featured in popular movies "The Craft," "Chasing Amy," "Mall Rats" and "Empire Records."  Sponge's star continued to rise with network appearances on "The Late Show with David Letterman" and the "Conan O'Brien Show."
Sponge's subsequent releases "New Pop Sunday," "For All The Drugs in The World," "The Man," "Galore Galore," and "Destroy the Boy," showcased the band's swirling sonic attack, rooted in 70's glam and of course, the Motor City influences of The Stooges, The MC5 and Motown-but still sounding distinctly like no one else.
"Plowed" continues to be the band's signature rock track, having been spotlighted on Guitar Hero's "Warriors of Rock – 90's Rock Track Pack" – and on the Paper Jamz Guitar Series 2, in addition to the soundtrack for the Gerard Butler surf movie "Chasing Mavericks."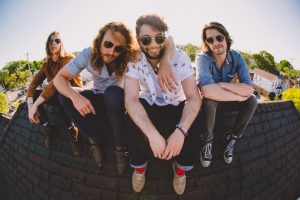 The Legal Immigrants –  Making their triumphant return to Tommystock, this Grand Rapids band plays straight forward rock and roll with some classic rock influence.
Their latest album "Hang On," released in November, was recorded to tape instead of digitally to get an authentic vintage sound.  Featuring Joe Bockheim, vocals and guitar; Ben Taber, lead guitar; Kevin Kitsch, bass; Marcus Jones, drums.  The Legal Immigrants are four battered souls, their genre-phobic style has something for everyone, and everything for some.   You can check them out Friday Night both at the Main Stage and after hours at the Fire Bowl!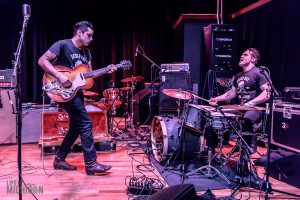 Jesse Ray & Carolina Catfish –  With their blend of rock 'n' roll, blues, and punk, this duo continues to rock stages across the Midwest. Based out of Grand Rapids, Michigan, their albums Gravedigger and Dead Man Walking were awarded the WYCE Jammie Award for "Best Roots/Revival Album" in 2014 and 2016.
More than five years in – and after hundreds of gigs and thousands of miles on the road – Jesse Ray hasn't changed his on-stage attitude.
"Still motivated, totally still crazy for sure," said the singer, guitarist and dynamic frontman for Grand Rapids' Jesse Ray & The Carolina Catfish, that two-man, rockabilly-meets-raw-blues, hell-on-wheels outfit that's pumped up audiences with its fiery, table-jumping live shows. "It's that punk-rock attitude, wanting to let loose."
With Brandon "Dingo" Hopp on drums and Jesse Ray Cahue on guitar, harmonica and vocals, this attention-getting duo will be rocking Tommystock both Friday and Saturday Night!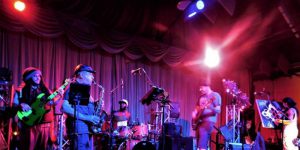 Cosmic Knot – Quite simply, Cosmic Knot isn't your ordinary band, more like a band on a mission. To see Cosmic Knot live is to experience something that most won't soon forget. This band puts every ounce of divine energy possible into every note they play and it shows. Whether it's Hayaman Tzach drumming like his life depends on it, Rolly Smith blowing a saxophone so passionately you'll think he's about to lift off the stage, Ramon Satyendra holding down the keys like no one else can, or Tom Wall playing blistering leads, you're left with a feeling that something truly special is taking place on stage. It all comes together with Zach Gregory's undeniable bass lines creating a unique blend of spacious bluesy rhythm, psychedelic jazz grooves, stellar funk lines and a sheer passion rarely found in life these days… Cosmic Knot have performed many shows in their nearly 3 years as a band including Tropidelic's Sold Out 2018 Freakstomp Music Festival, 20 Monroe Live, the 2017 and 2018 Hash Bash, the 2018 Sandy Corley Run at Double JJ, Harvest Gathering and so many more. Recently joining forces with University of Michigan Music Professor Ramon Satyendra on Keys, Cosmic Knot have been wowing their audiences with musical virtuosity that captivates an audience to its core. Cosmic Knot have been featured on Local Spins, NPR's Mix Tape, Fox News, The Detroit News, M Live and more. Their debut album "Inner Space" hit #7 on the National Relix Jam Band Radio Chart and maintained a top 30 position for an incredible 5 months. Inner Space also hit the top 20 on multiple radio stations around the country and is currently in rotation.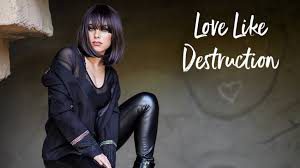 To understand the essence of singer/songwriter Rocky Wallace it is important to know that she was singing before she could talk. Her first childhood memories were surrounded by music and an intense longing to sing.
She would have to sing. Her mom convinced a local music school near Detroit to provide voice lessons to a young student named Rocky. And then everything changed. "I started taking classical lessons in middle school and then gospel later on," said Rocky. "I couldn't wait to learn it all. Today, my influences span every genre and era of music. I have a deep fascination with singers and their techniques and study how they develop their unique vocal style."
Rocky's musical influences include: Stevie Nicks, Ella Fitzgerald, Amy Winehouse, Susan Tedeschi, Carrie Underwood, Jimi Hendrix, Carlos Santana and Aretha Franklin.
She may have influences but Rocky aspires to sound like no one else. "Someone once told me the best compliment they ever received was when a fan told them, 'you sound like you.' That's something that always stuck with me in developing my own sound. There's no one else I strive to sound like but me."  Listen to Rocky and you will know that this is her truth.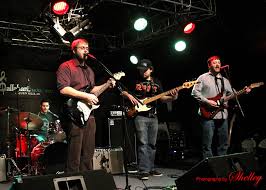 Slowfoot – Slowfoot began as a side project for a few musician friends in a Waterford, Michigan basement in 2014. The current lineup was solidified in 2015 with Frank Grimaldi – Lead Vocal, Guitar, Mike Conley – Guitar, Vocals, Peter Zajicek – Hammond Organ, Vocals, Kris Greig – Bass Guitar, Tony DiDio – Drums, Vocals
The group started playing cover tunes for fun and quickly recognized the chemistry was great enough to form a full-fledged band. Blending the sounds old-school rock & roll with soul music of the 50's & 60's and the blues Slowfoot found their niche almost immediately and began producing original compositions.
To date the highlight of the bands performances was opening for 60's rock legends Steppenwolf on the Detroit Riverfront for the annual "Rockin on the Riverfront" concert series.
With a tight groove, heartfelt guitar and organ solos, and searing vocals Slowfoot is definitely a band on the rise, and one to take notice of. The band is currently working on a full studio record that will begin production in 2019
The Implications – An outstanding 4-piece rock & roll cover band that plays fun music from the 70's, 80's, 90's, 00's and the current day.Featuring two guitars, drums, bass guitar and keyboard, with tremendous vocal harmonies, these guys have been captivating audiences in Detroit area bars and private events for many years. The Implications play an amazing range of music, perform it to perfection, and puts on a high energy show. Their repertoire includes; Bob Marley, The Rolling Stones, Black Crowes, Grateful Dead, Phish, Led Zeppelin, Boston, AC/DC, Michael Jackson, The Cars, The Outfield, Lenny Kravitz, Maroon 5, Bruno Mars, Neon Trees, The Black Keys, Kings of Leon, and many more. We continually add to our set list.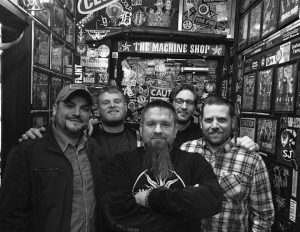 Into the Sun –
Featuring:
Rick Drinkard
Erik schwach
Julio Fonseca
Bill Arnold
Brian "BC" Cox
Andrew David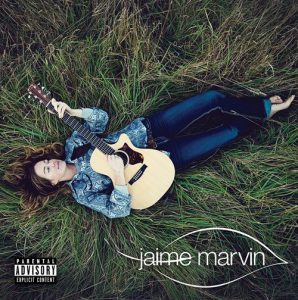 Jaime Marvin – Jaime  fell in love with music at a very early age.  She started playing drums and percussion in grade school, but baseball was her passion, so it wasn't until she threw her shoulder out playing on the High School boys JV baseball team that she picked up a guitar.  At that moment, she found her new passion.  As with everything Jaime does, she immersed herself into music and found her soul.  She knew on that day that she would spend the rest of her life playing, listening, teaching, and sharing music with others.
Jaime's musical background is vast, from playing percussion in the High School band, studying music theory, teaching guitar and drums, being the piano accompanist for ballet classes at the University of Michigan, working at the local music store for over 9 years and then owning her own music store and café, she surrounded herself with music.  She also attended Galloup School of Luthiery, where she earned her Master Luthier Certificate.  Her love for music continued to grow and soon she began to play in local coffee shops where her talent was quickly recognized.  This opened the door to bar gigs and private events, giving her the opportunity to make her living performing music.  She is now a staple of the local music scene and also on Mackinac Island during the Michigan summers.
Jaime has a diverse repertoire, and her musical influences are from a vast array of different genres, but somehow she is able to pull a unique element out of each of those to make her own flavor.  Jaime states, "No matter what I do in music, I will always perform with all of my heart and soul".  Along with being an accomplished vocalist and guitarist, Jaime has been writing for a few years and has just released her first album.  Jaime is, in a word, raw. . . what you see is what you get.  When she plays, her music touches your soul, she feels every chord, every note, and so do you.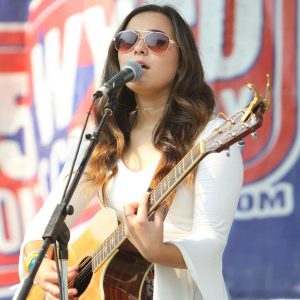 Erica Mourad  –  Singer / songwriter, Erica Ann Mourad is a 18 year old senior honor student, at Lake Orion High School.   Instruments privately studied are; piano, flute and guitar.  In 2013, entering the Canterbury Village Idol Contest (open to all ages), she achieved the top honor – winning first place.  With an extreme passion for music, she has performed at various venues; church functions, community fund raisers, and benefit / charitable events.  She has recently opened up for country singer Michael Ray at Cayote Joe's and continues to have breakthroughs in her career.
Erica's love of music has resulted in song writing which she feels is an important element in her future plans.  To date, her originals speak volumes of her dedication to the art of song writing.  At her young age, her focus is to give back.  This is her main objective when dreaming of her musical career…to make a difference.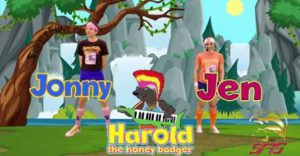 DJ Jen of Super Fantasy Funk & super FUN Kids – DJ Jen brings 1/2 of the super FUN Kids show to Tommystock for FREE family Fun Day!  Great Entertainment for the entire family.  Get inspired to move, and to grove, and to shake and to strut your way to a super fun day with DJ super Funk!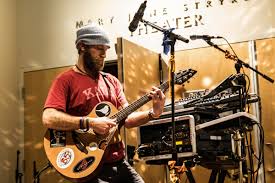 Brotha James –  "When we connect the things we love with our talents and passions, we gain superpowers," says soulfully sage singer-songwriter, author, and inspirational speaker brotha James.
It took the Elk Rapids, Michigan-based artist many years and travails to unlock his own potential, though. In his former life as Jeremy Reisig, he was a hotshot kitchen knives salesman pulling a six-figure salary, occasionally pursuing music ventures. However, when a string of musical projects imploded, and Jeremy found himself a marginally accomplished hype man/auxiliary percussionist out of a gig, he bounded back and reinvented himself as Brotha James.  Brotha James shares his transformative message of positivity through a multi-tiered music platform. His robust offerings include club and festival appearances as a captivating performer with an exhilarating body of recorded work. brotha James is also a galvanizing speaker who can tailor appearances that mix inspirational speaking within a live concert setting. In addition, brotha James is an empathic facilitator/supervisor in corporate settings, fostering dialogue to help businesses improve interpersonal dynamics and productivity. His live performances are enhanced by the addition of his brother Sean, a talented and seasoned drummer. Together these two brothers bring a dose of inspiration, positivity, and connection through high energy and engaging music.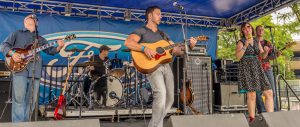 Joe Jaber & The Last Divide plays a mixture blues, of rock 'n' roll, roots, Americana and even a dash of country. Their bluesy foundation melded with a classic soul shuffle, a sprinkling of jazz and hint of country pedal steel iss as if four of the major music groups met at an intersection and decided to go jogging together.
Joe Jaber takes the fire and fury of rock and channels it into the elegance of folk. He takes the grit and passion of the blues and arranges it to the rolling majesty of Americana and alt-Country. It can feel sanctified like gospel, or it can be a high-octane composite of grunge bluster and riffy garage-rock. He kinda does it all! Jaber is backed by the versatile band, the Last Divide, and they're getting ready rock Tommystock Saturday July 27th!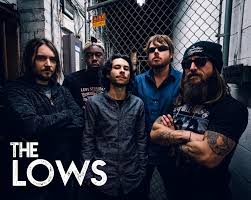 The Lows – The Lows are an exciting new hard rock band hailing from Detroit. The band was founded in 2017 by young songwriter/singer/multi-instrumentalist Angelo Coppola who is setting out to bring pure, thoughtful, heartfelt rock & roll back to the mainstream.
The Lows were nominated for 4 Detroit Music Awards, and frontman Angelo Coppola is the 2019 Metro Times Best Of Detroit Music Artist Of The Year Winner!
The Lows recently opened up for Candlebox at the Fillmore and are coming to rock at Tommystock Saturday July 27th!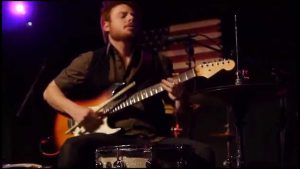 Mike Leslie – Since his Detroit debut show to a sold-out crowd at the Magic Stick in December 2012, Mike Leslie has been a speeding bullet of buzz and critical acclaim. MLB have sold out headline shows at the classic Michigan market rock n' roll mid-sized clubs as well as opened for Three Dog Night, Jimmie Vaughan, Rick Derringer, Sponge, Mitch Ryder and Larry Carlton.  In 2013, Mike Leslie Band took command of the Detroit music scene with two Detroit Music Awards, including the People's Choice Award. On the national scene, MLB showcased at SXSW 2013 and won DOUG FM'S regional crown at Battle of the Bands.  In 2014, Mike's Detroit reputation and guitar mastery led him onto the international stage as the lead guitarist for the multi-platinum selling band Candlebox. Mike toured The Americas with Candlebox, along with his good friend and fellow band mate drummer Dave Kruzen of Pearl Jam fame. Mike co-wrote and performed on the most recent Candlebox album Disappearing in Airports.  In 2018 Mike left the international touring scene to return to his roots in Detroit, the Home of Rock and Roll, where he has once again established himself as one of Detroit's premier musical talents.  Mike's live performances include a combination of hard rocking and soulful original works, and his own renditions of timeless rock classics. His phenomenal live performances are must see events. Be there!!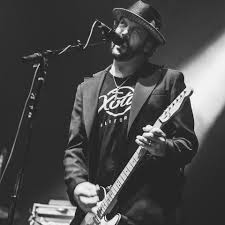 Andy Patalan – Andy is an American musician best known as the guitarist and backing vocalist for the alternative rock band Sponge.   He also is a founding member of Solid Frog and Throttlebody.  He was also the guitarist for Brownsville Station from 2011–2013. His brother Tim Patalan is the bassist and producer of Sponge. He is the owner of his home studio, ATP Productions in Shelby Township, Michigan, and he is the co-owner of The Loft Recording Studio in Saline, Michigan.   Patalan joined Sponge in 2004, after a major line-up change in the band. He and guitarist that was in Patalan's other bands, Kyle Neely joined after former guitarists Joey Mazzola and Kurt Marschke left the band, making singer Vinnie Dombroski the only original member. Although Patalan was new to the guitar role in Sponge, he was very familiar with the band. He was the assistant engineer for the Sponge albums Rotting Piñata (1994), Wax Ecstatic (1996), and New Pop Sunday (1999). His first album with Sponge while playing guitar is the 2005 EP Hard to Keep My Cool. His first studio album with Sponge is The Man from 2005. Patalan's first live album with Sponge was released in 2007, called Alive in Detroit, this was also Sponge's first live album ever. His second studio album with Sponge was the 2007 release Galore Galore. Patalan's second EP with Sponge, Destroy the Boy was released in 2010. In 2013 Sponge participated in the Summerland Tour. This was a tour with Filter, LIVE, and Everclear. On this tour is where the newest Sponge album, Stop the Bleeding was first released on Three One Three Records, the album was only available at Summerland shows. It was later announced that Sponge signed to The End Records to release the album nationally in September 2013.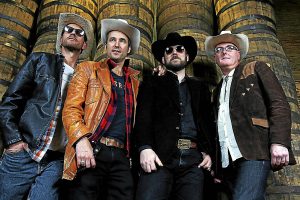 The Orbitsuns – Riding their tired old horses across Detroit, their saddlebags stuffed with bourbon, Coney Island hotdogs and worn Johnny Cash cassettes, are the Orbitsuns, the Motor City's finest purveyors of low down and dirty outlaw country. Summoning the spirits of all of their brethren, the Orbitsuns are as outrageous as Iggy, as blue collar as Seger, as dark as Alice, as revolutionary as the MC5 and as boundary crossing as the Kid. This is country, folks, but not as you know it. Front man Vinnie Dombroski made his name with alt-­‐rock giants Sponge in the '90s, smashing into the charts with hits like "Plowed" and "Molly (16 Candles)". Sponge were formed out of the ashes of the hard rock band Loudhouse, and they were signed to Sony Records for their first two albums (Rotting Piñata and Wax Ecstatic) and were the opening band on the first night of the Kiss reunion tour in 1996. That band is still a going concern proving that the singer is as prolific as he is talented. It was 1996 when Dombroski discovered his talent for writing fire n' brimstone, honky-­‐tonk hoe-­‐down from Hell cow-­‐punk music, and before long he found himself with a gun case full of songs that would shake the dust from the oldest Stetson, but wouldn't fit comfortably Sponge's repertoire. The obvious solution was to form a new band entirely, one that could roam from dive bar to social club, avoiding the spit n' sawdust on the floors to bring the party to everyone from the hipsters to the ignored. The band, completed by Jimmy Paluzzi on drums,Bob Hecker on bass,Jeremy "Leroy"Bilitz on guitar and Liz Fornal on vocals are one of the hardest working in Detroit, and in this town that's really saying something. Their debut album Redneck Disco was originally released in 2001, simultaneously introducing the world to a band which had been honing it's incendiary live show since it's inception a couple of years before. That album, which was re-­‐released in 2008 as Redneck Disco Revisited, featured such slabs of whisky-­‐soaked Michigan mayhem as the self-­‐explanatory "Long Line of Sinners", a dirty cover of Johnny Cash's "Boy Named Sue", "La De Da" (a song which celebrates the fact that nobody would want to live next door to these reprobates) and "Haul Ass", the latter being the Orbitsuns' call to arms.