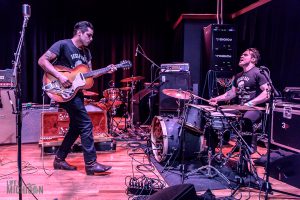 Jesse Ray & The Carolina Catfish

Jesse Ray and the Carolina Catfish is a 2015 Jammie award winning Rock-N-Roll band from sunny Grand Rapids, MI. Founded in the fall of 2013, Singer and guitar player Jesse Ray Carolina started a rockabilly-influenced duo that played numerous gigs in West Michigan. They have also toured as far as New Orleans in the winter of shortly after releasing their debut album "Gravedigger", winner of the "Best Roots/Revival Album" award by WYCE. "Dead Man Walking", Released in September of 2015 is the band's sophomore release. The band hopes to take it's high energy shows to new places, and faces around the United States and beyond.  Their third record, "Angry", is a powerful rock'n'roll performance, and credited to be closest to their live performances.  Influenced by blues, punk, and rock-n-roll with a small dash country; hard hitting guitar, splitting harmonica, rambunctious drums, and crooning vocals will lay in the wake of this band's performance. If you're a fan of back to basics or "old school" rock-n-roll, this is a band you won't want to miss.
http://www.jesserayandthecarolinacatfish.com/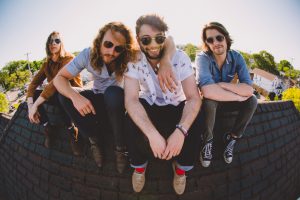 The Legal Immigrants
The Legal Immigrants are four battered souls banded together in Grand Rapids, MI. Their genre-phobic style has something for everyone, and everything for some.
Their songs are virulent and ragged but possess a certain pop foundation which gives them an aptitude for clinging to your mind grapes. Sinewy guitar riffs and vocals that carry like a camel. The music is loud and raucous and is bound to no sound. it's distinctive and memorable and is charged with enough emotion to peel back the layers of even the coldest heart.
https://www.thelegalimmigrants.com/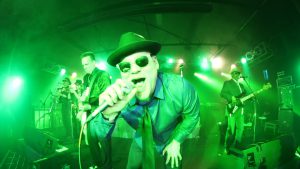 Reverend Right Time and the 1st Couzins of Funk
It's time to get your funk on…Rev. Right Time and the 1st Cuzins of Funk are back! This is right where you'll find your funk, groove and soul. Hailing from Flint Michigan, Rev. Right Time and the 1st Cuzins of Funk are busting-at-the-seams-happy to be back on the road, doing what they do best: raising the roof of clubs all across the map.
The Rev. and his killer band shook the funky foundation of the nation back in 1996 through 2007, with their amazing, spirited, fun, colorful, explosive stage show, and touring to support their red-hot Atlantic Records album release. The Rev. (aka Patrick Ferris) and his band created a buzz in the music industry with their snappy, catchy rhythm and blues and funk songs and sharp, energized stage show. The Rev. caught the eyes and ears of famed Grammy Award winning producer Niles Rodgers. Niles Rodgers took the band under his wing and produced Rev. Right Time and the 1st Cuzins of Funk's record for Atlantic Records. With a hot record under their belt, they hit the road, becoming a driving force on the funk/groove/soul scene and one of the nation's premier funk / dance bands.
https://www.facebook.com/revrighttime/

In Harmony's Way
Once upon a time, Amy Fong gave her younger cousin Sharon Tse her first guitar – but didn't see her again for a long time. Amy went on to form a duo with her husband Paul Kretzmer – Kretz and Fong became a popular favorite in the Lake Orion area, and released several CDs of their songs.
Meanwhile Sharon went on to develop singing, guitar playing, and songwriting, and recorded her own CD. Through a case of mistaken identity, she met John Finan – another local singer/songwriter/guitarist with several original CDs of his own. They too formed a popular duo.
A chance mention by a mutual music friend led to Sharon and Amy being reunited – and an afternoon on a boat singing along to the radio revealed the quartet's harmony prowess.
The result was in Harmony's Way. Amy Fong-Kretzmer, Paul Kretzmer, Sharon Tse and John Finan have sine been thrilling their audiences with their musicianship, their interpretations of acoustic rock classics, and their world-class harmonies.
https://www.facebook.com/InHarmonysWay/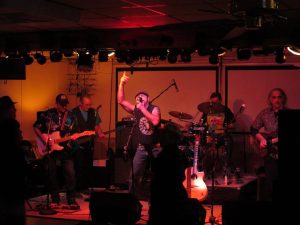 Robert Louis Band
The Robert Louis Band is a Metro Detroit area band that plays original songs that are influenced by deep cuts of classic rock, blues, and country.  The band is fronted by singer/songwriter, Robert Louis, who at a young age was influenced by Johnny Cash, Kris Kristofferson, etc. but also by the likes of Neil Young, The Doors, and The Rolling Stones. Most recently, the inspiration has come from comparatively lesser known artists such as, Jason Isbel, and Chris Knight. "Their music puts me in a good place, I aspire to write those kinds of songs."
https://www.facebook.com/therobertlouisband/
Mike Leslie
Mike Leslie has been in the rock 'n' roll scene for sometime and is not unfamiliar with big exposure, being a guitar player for the popular grunge band, Candlebox. When Mike is not on tour with Candlebox, he is the busy frontman for his self-titled power trio, The Mike Leslie Band.
https://www.facebook.com/mikeleslieband/
https://www.facebook.com/mike.mcdonnell3
Cash O'Riley
Outcast and Outlaw…sounds from a trailer park in the swamp filled with lustful heathens with unbridled rebellion that refuse keep their shoes on.Born in Jackson, MI and raised a gypsy kinda life between Eastern Kentucky and Lake County, Florida, Cash O'Riley writes and sings songs about Hard Livin', Tough Lovin' and the temptations of Good and Evil. A sound that travels beyond specific genre. Cash's music is a blend of Rock & Roll, Blues, Folk, Punk, Country, Bluegrass and sometimes a little Jazz and Funk.  Playing on a Homemade 6 string oil can guitar crafted from a smashed Epiphone Dot and a 2 Gallon oil can from WWII, while also kicking it on the barefeetin" drums, while playing his Hohner Harmonica, Cash is a one man band!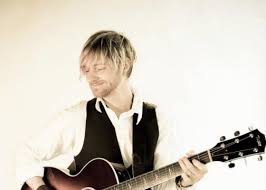 Steve Taylor
Steve Taylor graduated from Boston's prestigious Berklee College of Music in 1995 with a degree in songwriting. After returning to Michigan, Steve joined Detroit based Yeah Loud Records artist the Vudu Hippies. The band released the CD Trampoline in 1997 to rave reviews and a Detroit Music Awards nomination for Album of the Year. The Vudu Hippies opened for such acts as Oasis, Spin Doctors, Grand Funk Railroad, and Fuel, and released two full length CDs in 2001 (Rise and Funsucker.) In 2005, Steve began performing as a solo acoustic artist, bringing his blend of soulful original material and songs by his favorite artists to more intimate settings.
https://www.facebook.com/stevetayloracoustic/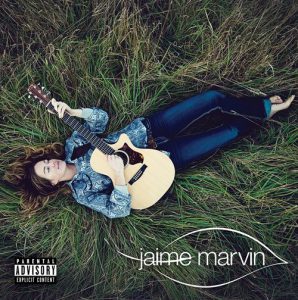 Jaime Marvin
Jaime Marvin fell in love with music at a very early age.  She started playing drums and percussion in grade school, but baseball was her passion, so it wasn't until she threw her shoulder out playing on the High School boys JV baseball team that she picked up a guitar.  At that moment, she found her new passion.  As with everything Jaime does, she immersed herself into music and found her soul.  She knew on that day that she would spend the rest of her life playing, listening, teaching, and sharing music with others.
Jaime's musical background is vast, from playing percussion in the High School band, studying music theory, teaching guitar and drums, being the piano accompanist for ballet classes at the University of Michigan, working at the local music store for over 9 years and then owning her own music store and café, she surrounded herself with music.  She also attended Galloup School of Luthiery, where she earned her Master Luthier Certificate.  Her love for music continued to grow and soon she began to play in local coffee shops where her talent was quickly recognized.  This opened the door to bar gigs and private events, giving her the opportunity to make her living performing music.  She is now a staple of the local music scene and also on Mackinac Island during the Michigan summers.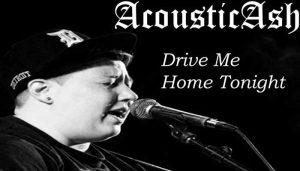 Acoustic Ash
Ash is a prolific singer/songwriter who continues to excel within the songwriting field, whether it be through her political poetry or the ever emotionally evoking sincerity of her interpretation of everyday events, such as loss, love, money and politics.  AcousticAsh has played numerous festivals in England and America including;
FORD Arts Beats and Eats, Windover Womens Festival, CAMPIT, Manchester gay pride and the Midlands Music Festival.
https://www.facebook.com/TheAcousticAsh/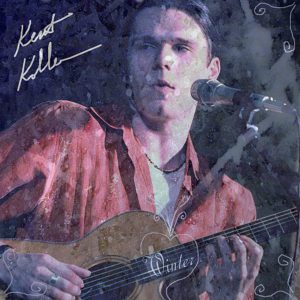 Kent Koller
His first public performance came in 1989, when he showcased his fancy feet to "Billy Jean" in a school talent show. He wrote his first song at 13, and over 50 since. His friends claim he's a vampire, while his dog Lugar knows he s not. He's produced five albums, mastered his ego, and is the first in his family to pursue and create music as a profession. His name is Kent Koller, his mentor is a Lyon, he prays at night to share a stage with Jesus, and he takes great pride in being a part of a hard-working, resilient, and diverse art and music culture built on soul and substance, over image and conformity.
https://www.facebook.com/kentkoller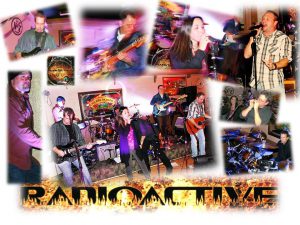 Radioactive
RADIOACTIVE is a diverse cover band, incorporating layered vocals, playing many of your oldest and newest favorite's from Pop Country, Pop, and Modern to Classic Rock.
https://www.facebook.com/Radioactivetheband/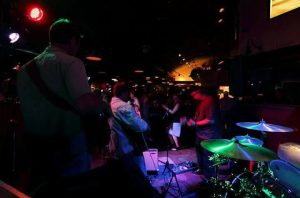 The Implications
THE IMPLICATIONS is an outstanding 4-piece rock & roll cover band that plays fun music from the 70's, 80's, 90's, 00's and the current day.
https://www.facebook.com/theimplicationsband/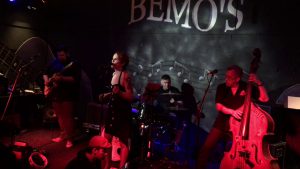 Cindi Lou and the Red Hot Royals